How To Play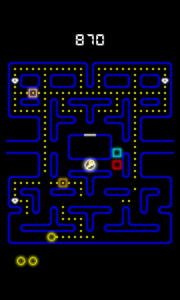 Overview
Nom all the coins to clear the stage. Avoid getting nom'd by the ghosts. Nom a diamond to power up - then you can nom the ghosts!
Tips
Head Shaking: The squares determine which way to turn, in part, by which direction Nom-Man is facing. Nom-Man can change direction anytime, but the squares cannot.
Steve's words of wisdom: When squares change their behavior they usually change direction. This can be a warning.
The squares are named Winky, Slinky, Dinky and Spaz. They may seem similar, but they each have distinct personalities.
Winky is the red square. He is agressive, and will usually rush towards Nom Man.
Brandon's Pro-Tip: Twice each level a bonus symbol will appear under the square base for a few seconds. This is a Taptitude upgrade and is worth points.
Dinky is the light blue square. He isn't very creative and tries to coordinate with Winky to team up against Nom Man.
Spaz is the brown square. He is unpredictable and seems reluctant to come too close to Nom-Man.
Tyler Says: The more squares you nom after nom'ing a powerup-diamond, the more points you get. Nom all 4 squares with all 4 diamonds to get even more bonus points.
Squares emerge from their home after you've nom'd a certain number of coins - or if enough time goes by without you nom'ing any coins.
Tunneling: The tunnel to the left and right wraps around. Squares move slower in the tunnel, but Nom-Man moves at his usual speed.
Cornering: Nom-Man can cut corners a little faster than the squares. Use this to outmaneuver them. Try to turn before you get to an intersection.
Slinky is the pink square. He is sneaky, and will try to get in front of Nom Man to block his path.
You receive an extra life for the first 10,000 points you score.
Upgrades
Nom-Man Upgrades
Upgrade
Description
Cost
Tap Controls
Control Nom Man by tapping in the direction you want him to go. Tap to the left of Nom Man to make him go left. Tap to the right of NomMan to make him go right.
Free
Swipe Controls
Control NomMan by swiping in the direction you want him to go. Swipe left to go left. Swipe right to go right. It doesn't matter where on the screen you swpie.
x1,000
x1
Classic Map
Play just the original Mon-Man maze
Free
Map Pack #1
Adds 3 more mazes, and some variations on the color scheme to Nom-Man
x10,000
x1
1-Up
Nom Man starts with one additional life.
x100,000
x1
General Upgrades
Upgrade
Description
Cost
Auto Submit
Auto Submit can be purchased for each game, and once enabled your scores in this game will automatically be submitted to local and online leaderboards.
x250
x1
VIP Pass
VIP Pass can be purchased for each game and when it is enabled you get to skip the countdown before playing that game!
x500
x1
Star Power
Star Power increases the coins earned per star when completing this game. Instead of getting 5 coins per star, you will get 250 coins per star.
x15,000
x2
Stars
| | |
| --- | --- |
| | 10,000 points |
| | 5,000 points |
| | 3,000 points |
| | 2,000 points |
| | 1,000 points |
Stats
Play Time

How much time have you put into Nom-Man?

Probably not enough!

Only spent time in game is counted, hanging out in the menus doesn't count.

15m 0s
30m 0s
1h 0m 0s
Games Played

The number of times you have played Nom-Man since purchasing this stat

You must finish a game for it to count.

10
50
150
Highest Level Reached

The highest level reached in Nom-Man

2
4
10
Number of Coins Nom'd

The total number of coins nom'd by Nom-Man

100
1,000
10,000
Number of Diamonds Nom'd

The total number of diamonds nom'd by Nom-Man.

10
100
1,000
Number of Squares Nom'd

The total number of squares nom'd by Nom-Man

4
8
32
Upgrades Nom'd

The total number of upgrades nom'd by Nom-Man.

4
8
32
Community content is available under
CC-BY-SA
unless otherwise noted.