How to Play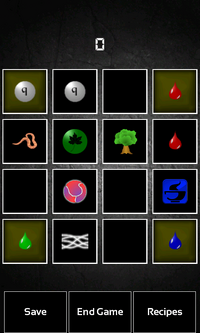 Overview
Drag crafting ingredients onto the grid to discover recipes and craft bigger and better ingredients. When ingredients of a recipe are dragged next to each other they will combine. The corners are basic ingredients which you have an unlimited number of and can be dragged out from the corner. Drag an ingredient to the corner to destroy it. When you are done. end the game to submit your score!
To use the "drop-in" feature, tap on an empty cell to drop in existing craftables (ingredients already crafted). The higher the ingredient, the more credits you will need to spend.
Tips
Tip from Nate: Buy a bigger board to have more room to move.
Steve's words of wisdom: Try to get combo reactions for more points.
Brandon's Pro-Tip: Use the recipe book to find known recipes.
Tyrler Says: You can save your board for later, but ending the game lets you submit your score.
Upgrades
Swap Craft Upgrades
Upgrade
Description
Cost
Default[1]

The normal 4x4 grid.

Free
Pro Swap[1]
Increases your puny 4x4 grid to 5x5!
x100,000
x10
Master Swap[1]

A master deserves room to breath!

Increases the grid to 6x6.
General Upgrades
Upgrade
Description
Cost
Auto Submit
Auto Submit can be purchased for each game, and once enabled your scores in this game will automatically be submitted to local and online leaderboards.
x250
x1
VIP Pass
VIP Pass can be purchased for each game and when it is enabled you get to skip the countdown before playing that game!
x500
x1
Star Power
Star Power increases the coins earned per star when completing this game. Instead of getting 5 coins per star, you will get 250 coins per star.
x15,000
x2
Stars
| | |
| --- | --- |
| | 5,000 points |
| | 2,000 points |
| | 1,000 points |
| | 300 points |
| | 50 points |
Stats
Play Time

How much time have you put into Swap Craft?

Probably not enough!

Only spent time in game is counted, hanging out in the menus doesn't count.

15m 0s
30m 0s
1h 0m 0s
Games Played

The number of times you have played Swap Craft since purchasing this stat

You must finish a game for it to count.

10
50
150
Total Swaps

The total number of swaps.

This is increases every time two squares swap with each other.

1,000
5,000
25,000
2x Combos

The total number of times two crafts were made with a single swap.

10
25
50
3x Combos

The total number of times three crafts were made with a single swap.

5
10
20
4x Combos

The total number of times four crafts were made with a single swap.

1
5
10
Molecules Crafted

The total number of molecules that were ever crafted in swap craft.

10
50
100
Cities Crafted

The total number of cities that were ever crafted in Swap Craft.

1
2
3