How to play
Overview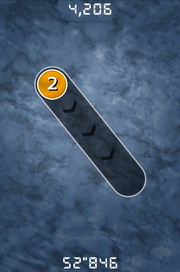 Tap the circles in order. Slide circles along tracks.
The faster you are, the more points you get.
When the time runs out, the game ends.
Tips
Steve's words of wisdom: Collecting clocks will keep you in the game.
Brandon's Pro-Tip: Remember the patterns, and predict the next action.
Tyrler Says: Use your thumbs and fingers at the same time for maximum speed.
Tip from Nate: Avoid the bangs, they cost you time.
Game Notes
Multi-Touch is required to play this game
Upgrades
General Upgrades
Upgrade
Description
Cost
Auto Submit
Auto Submit can be purchased for each game, and once enabled your scores in this game will automatically be submitted to local and online leaderboards.
x250
x1
VIP Pass
VIP Pass can be purchased for each game and when it is enabled you get to skip the countdown before playing that game!
x500
x1
Star Power
Star Power increases the coins earned per star when completing this game. Instead of getting 5 coins per star, you will get 250 coins per star.
x15,000
x2
Stars
| | |
| --- | --- |
| | 50,000 points |
| | 30,000 points |
| | 20,000 points |
| | 10,000 points |
| | 2,500 points |
Stats
Play Time

How much time have you put into Tap Slide?

Probably not enough!

Only spent time in game is counted, hanging out in the menus doesn't count.

15m 0s
30m 0s
1h 0m 0s
Games Played

The number of times you have played Tap Slide since purchasing this stat

You must finish a game for it to count.

10
50
150
Community content is available under
CC-BY-SA
unless otherwise noted.